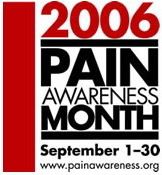 Earlier this month, I noted that September is
Pain Awareness Month
. The organizations involved in this promotion have developed a comphrensive slate of web-based programming to promote public education on pain-related issues. However, there are few items that I think will be of particular interest to migraineurs, and two of them happen to be scheduled for this week.
Pain Awareness Month calendar
:
- Tuesday, September 26, a Webcast on pain and depression
- Thursday, September 28, a Webcast on headache pain
Many other topics falling under the larger umbrella of pain have been covered in this series, so I encourage you to take a little time to check out the Pain Awareness Month website, peruse the topics represented among the daily Webcasts and Daily Lessons, and listen to those selections that pique your interest. Some are more appropriate for medical professionals, but many of them offer content of interest to patients. The September 18, 2006, Daily Lesson,
Pain Syndromes A: Head, Neck, and Shoulders
includes good information about headache disorders.
Technorati Tags: pain, depression, migraines, chronic illness, health, somebody heal me