The American Association of Clinical Endocrinologists and the American Thyroid Association promote awareness of thyroid disorders every January.

Thyroid disorders are often overlooked and misunderstood. If you've never considered the possibility, it makes sense to familiarize yourself with the warning signs to see if anything rings true to you.
Even if you suspect you may have one of the related disorders, it can be hard to sort through all the information out there and know what steps to take next.


The Thyroid Awareness website is filled with information for people at any stage of illness, from suspecting you need to be tested to those who are being treated and have questions. If you're undiagnosed, you might start by downloading their "Neck Check" PDF. This handy little card describes the method you should use to see if you spot any enlargement or oddities in your thyroid gland.

Above all else, use this information as a reminder to talk to your doctor about any concerns you might have and ask for testing if you think you may have an undiagnosed issue.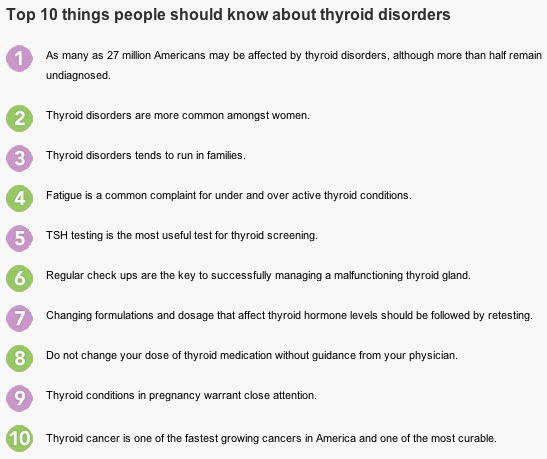 Technorati Tags: thyroid, thyroid awareness month, depression, migraines, chronic illness, health, somebody heal me
Subscribe to the Somebody Heal Me feed:
Subscribe in a reader
or
subscribe by e-mail
.

Content by Diana E. Lee.