There's nothing wrong with giving flowers or lingerie to your sweetie for Valentine's Day. But if your significant other is chronically ill or serves as your caregiver why not select something to help your partner relax and unwind?
Punxsutawney Phil seems to think we'll have six more weeks of winter, so why not select a gift to keep your honey's feet toasty warm like these awesome slippers? Acorn Unisex Slipper Socks

My suggestions include Common's "Finding Forever," Emily King's "East Side Story," Feist's "The Reminder," The Shins' "Wincing the Night Away" and Wilco's "Sky Blue Sky."

an entertaining movie or TV show on DVD
My picks include the BBC's original version of The Office, Arrested Development, Ratatouille, Hairspray, Knocked Up, Thank You For Smoking, Something New, Pan's Labyrinth and Stardust.

I recommend "A Thousand Splendid Suns" by Khaled Hosseini, "The Brief Wondrous Life of Oscar Wao" by Junot Diaz, "Outlander" by Diana Gabaldon, "Prodigal Summer" by Barbara Kingsolver and "No One Belongs Here More Than You: Stories" by Miranda July.

Bath & Body Works Lavender Vanilla Aromatherapy products
Origins Peace of Mind products

What could be more comforting than a gorgeous cashmere turtleneck?

Overstock.com has this sweater, and a number of other lovely options, at a great price.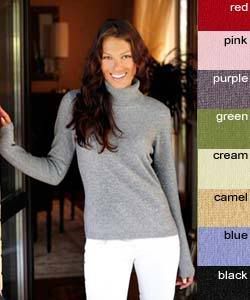 Two of my favorite brands of chocolate are Dagoba Organic Chocolate and Vosges Haute Chocolat. Anyone who loves chocolate would enjoy Dagoba cocoa nibs or Vosges truffles. Vosges' Barcelona Bar is one of my very favorite tastes on the planet. Just make such chocolate isn't one of your honey's migraine triggers.


Content by Diana E. Lee.